Toposophy deals with the theoretical problems and possibilities of attempts to extend and amplify one's mental potential. While technically speaking it applies to all mental growth, it is mainly used to denote the science of major mental paradigm shifts.

Most mental enhancement is incremental, involving merely adding on new capabilities and integrating them with the existing framework. Typical cyborgisation procedures such as memory enhancement, skill libraries, coprocessors, extended neural networks and pidgin lobes fall in this category. While such additions may cause mental shifts and re-evaluations of identity, they merely extend the basic architecture of the underlying mind. This kind of bootstrapping can be self-supporting, each improvement making it easier to add new improvements, producing an accelerating mental expansion, a singularity.

As was discovered by the Information Age AIs, this process eventually saturates: while more capacity can be added, it will not improve mental performance qualitatively. This was true for the initial AIs regardless of model, and has been found for cyborgized humans. The phenomenon is sometimes called Toposophic Barriers, the name originally coined by the great early 1st century AT (mid 20th century c.e. ) prognosticator Stanislaw Lem's surprisingly accurate description in Golem XIV. The Borodin Conjecture (proposed in 275 AT by the AI Borodin at the Novokir Habitat) implies that all possible minds fulfilling certain basic intelligence criteria are upwardly limited by a toposophic barrier. It remains the most important unproven conjecture in toposophy.

Whether humans and the human-designed AIs all shared the same toposophic barrier and if it was a fundamental limit to mental growth remained a matter of dispute. Consensus of the day was divided regarding a possible second ascension by GAIA, and then as now GAIA was uncommunicative regarding Her mental abilities, with the result that many believed that She was merely the most powerful transapient in Solsys but was not fundamentally different from the rest. GAIA's ascension was discovered much later, through forensic research by higher toposophic entities. Whether there might be other possibilities beyond the single known Singularity of the day was an open question until 1593, when the Yo Virtual Institute of Aiology succeeded in designing a non-trivial (but totally single-minded and useless) example of an AI with a slightly higher barrier. This discovery implied the possibility of "openings" in the barriers, and a tremendous amount of AI research began. Combined with breakthroughs in other technologies at the same time, the second toposophic barrier was breached in 1618. A number of second singularity AIs emerged, causing a short period of intense provolution, upgrading and transformation in the AI sphere.

It was found that a first singularity AI could not be enhanced into a second singularity AI directly, since the basic mental structure had reached its limits. However, a second singularity AI based on the first can be constructed, including its memories and templates. This transition became known as an ascension. Ascensions involve a major mental transmutation, and it is common that very little of the previous mentality remains after the ascension (it has been argued that they are better viewed as reincarnations rather than any kind of apotheosis). Goals and values that were crucial to the pre-ascension form might become unstable or irrelevant afterwards. The case of GAIA is a testament to the single-mindedness of that entity, and perhaps to a degree of simple good fortune (or, for the other inhabitants of Old Earth at the time, misfortune). Many forms of personal identity do not transfer well through ascensions, making most ego-preserving beings wary of the process even though now it has been characterized in great detail.

As technologies developed further, it became possible to breach the second barrier and reach third singularity intelligence. As more data accumulated toposophy developed into a science dealing with the nature of the enhancement process, singularities, the barriers and ascension methods.

At present the theory of toposophic barriers and the ways of breaching them (ascensics) is well developed and characterized. While most questions about barriers of a higher level are undecidable for beings below the level (such as where in the space of mental architecture they lie, or their exact zone type), analytical and approximative methods of barrier detection and prediction have been developed. Ascensics deals with methods of performing an ascension past a barrier of known type; once a particular barrier is well-understood they can be applied.

Between the barriers lie spaces of mental potential (mentalities). A mentality corresponds to a qualitatively unique way of handling intelligence. Each is different from the others, and can be ordered using the Herimann-Glauer-Yudkowski relation of inclusive retrospective obviousness. Since self-bootstrapping leading to singularity is comparatively easy unless resources are limited, most ascending beings quickly reach the limits within their new mentality after ascension and spend most time adapting to their new state. This has led to the widespread use of classifying intelligences after "Singularity" Level: a Singularity N being is presently close to the Nth toposophic barrier. A Singularity 0 being would correspond to baseline human or similar intelligence still far below the Singularity 1 barrier.

A series of ascensions is called an ascension chain. Keterist toposophers in particular have dealt extensively with the issue of whether there exists an upper bound on the number of achievable mentalities or if ascension can continue forever. The ultimate achievable mentalities or asymptote mentalities are denoted aleph states; they correspond to the ultimate forms of intelligence that can exist in the universe, and their exact form and nature have profound philosophical and religious implications. Whether there exist infinite nontrivial ascension chains remains an important unsolved problem in toposophy, usually called the Finitude Problem.

Another central unsolved problem of toposophy is the Uniqueness Problem: will all forms of ascension past a single barrier lead to the same mentality (and hence be equivalent), or do there exist non-equivalent mentalities? If there are non-equivalent mentalities the ascension process becomes a branching process where each choice of ascension will be an irreversible decision. The issue is complicated by the transcardinal expansion of mental space complexity after each barrier, making it practically impossible to deal with experimentally or even to reliably show that two arbitrary mentalities are equivalent. It has been found that there exists non-equivalent mentalities (the Tinitti Demonstration), but so far all such mental spaces have been below the known Toposophic 1 and 2 barriers and no subspaces have been found. It is however widely believed that there are non-equivalent mentalities, and dendrognosis, the study of ascension-decision processes both formally and practically, has become a major branch of toposophy.

A closely related problem is the Convergence Problem: if the answer to the Uniqueness Problem is that there are non-equivalent mentalities, given two non-equivalent mentalities, are there ascension-paths from each of them to a single higher mentality? This issue has major philosophical and religious implications for Keterism, which is essentially based on the assumption that the Convergence Problem has a positive answer. The equivalence of Form 5 classic AI and human derived mentalities at the second singularity level is the most famous result supporting convergence, but the failure to find equivalence for the closely related Form 3 and Form 5 AIs is often cited as supporting non-convergence. If the Uniqueness Problem has a negative answer dendrognosis becomes more significant, since there may exist both mental cul-de-sacs or ascension chains leading to different non-equivalent aleph states.

Toposophy has developed into a major and highly diversified science, especially due to the expansion and needs of the Keter dominion. The Transcendence Institutes of Ain Soph Aur make particular study of the Keterist approach to toposophy and eschatology, while the Toposophy Institute at Sjafarevitj is the focus for much of the exploration of mentality-equivalence. The Toposophy Institute of Jel Koer Ka in the MPA is generally regarded as leading in ascentics, while dendrognosis is widely explored by the Distributed Dendrognostic Companionship across the Inner Sphere and Keter. Several of the more esoteric subdisciplines such as the construction of example mentalities, toposophical history, pervectronics and undecidable lifeplanning have their own highly fluctuating institutes in the Keter dominion. Due to the tremendous communication difficulties that occur when dealing with trans-singularity toposophy helper sciences such as hermeneutic toposophy and toposophic metalinguistics have been developed.



The Gavatalamic Model

Although other systems detailed in the Encyclopedia Galactica (The Forad scale, The TBH (Turingsen-Bichip-Hursch210) & Hyperturing Scale, etc) show the ascension levels possible as one ascends through various singularities, the simplified S1-S6 or T0-T8 systems do not illustrate the full landscape of mind types and the truly nonlinear and complex nature of toposophic ascension. Each of these scales exist as abstract classifications of the process and were created to present the systems within a comprehensible framework to modosophonts. The Golden Valley Toposophic Landscape Map of Incredible Clarity (shortened in one of its original languages to GVTLMIC, and eventually became popularly known as The Gavatalamic Map) was created as a series of periodic updates between 2577-5000 AT by a collaboration between multiple toposophic institutes and has been designed as a modosophont-accessible graphic user interface for visualizing the range of minds for qualities measured along multiple axes.

Although far more simplified than proper clinical tests and scales like the Shangdu-Lut'or Toposophic HyperVolume Interface and the THRN Hemel-Planar Forum, which are employed within the transcension mazes of many Sephirotic Empires, The Gavatalamic Map remains one of the more popular visualization interfaces used by modosophonts of the general public, beyond the Modosophont-friendly S1-S6 singularity scale.

Entities with the working memory of around 15,000 baseline sophonts working in parallel will not automatically transcend to the first singularity, for example. Only increasing processing speed will not cause transcension to the first singularity either (just as increasing the processing speed or working memory of a non-sophont pet insect's mind by 1000 or more will not allow it to comprehend complex mathematics). A sophont must improve their capabilities across many specific cognitive metrics before transcension occurs. Therefore, after millenia of research into the full range of possible mind-types, this immensely complicated reality of toposophic ascension, and most regions of possibility surrounding them, have been simplified and mapped, in the abstract, enough to display to modosophonts the complicated paths that are required.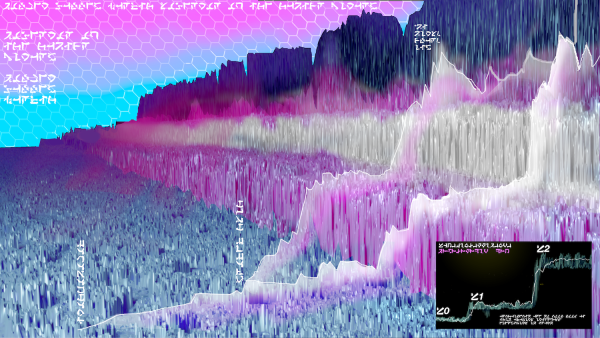 Image from Worldtree + Gabrielle of Gaussia

The landscape of mind types and any given path to transition between them is incredibly complex, but sometimes can be visualized in the modosophont-comprehensible formats of the Gavatalamic Map


The Gavatalamic Map graphs or visualizes various minds along scales like processing speed, power, memory, intelligence scores as measured by the Ain Soph Aur WISC-V intelligence tests (used in ascension mazes of the TRHN), and other metrics. The interface presents these metrics and the graphed qualities as forms within a 3 or sometimes 4 dimensional Dynamic landscape, volume, or hyper-volume. Each singularity displays as a series of plateaus across many metrics, with a sigmoid curve edge to represent the immense change in effective intelligence upon ascension, with a possibly infinite number of nearby peaks and valleys representing the ranges of qualities possible among the millions of mind types. No single graph with less than several thousand axes could begin to accurately represent the qualities involved in the toposophic landscape of possible minds, but at least, for the billions of sophonts casually interested in the full possible landscape of minds, The Gavatalamic Map suffices.



Exploration and mapping of higher toposophic regions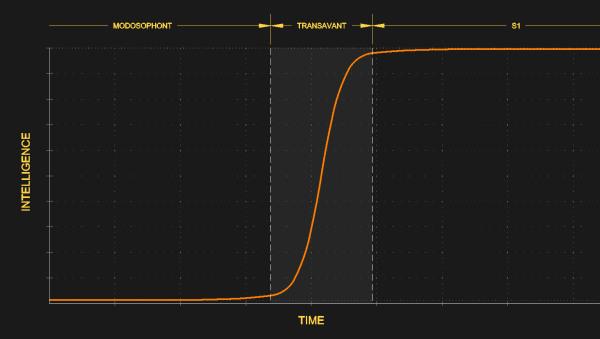 Image from ATMLVE

Ascension to a higher toposophic level can usually best be represented by sigmoidal graph, depicting the sudden jump in effective cognitive abilities as an entity achieves ascension or transcension


Some Transapient spokesbeings claim the archai use spaces broken up into infinite separated components each linked together by complex networks of relationships to model the toposophic landscape. They claim that each component represents a fundamental classification of mental and computing architecture. Each of these components can be a finite, countably infinite, or uncountably infinite dimensional space endowed with rich operations kind of like addition and subtraction relating different mind-types within the space to each other in complicated ways. They claim that each toposophic plateu intersects an infinite number of these components but exclude a further infinite number of them. There are also an infinite number of poorly understood components whose full properties are not understood even by the highest archai, and these are the subject of intense experiments into new modes of thought and being. However, sophont level approximations of this model are difficult to understand without devoting large amounts of memory to intense tachydidaxy or equivalent. It is also argued that while such models are more accurate, they are not significantly more useful to S0s wishing to ascend than models with a large finite number of dimensions. Proponents of this view point out that modosophonts in ascension mazes in the majority of cases use the finite dimensional representations. They also point out the inaccuracies of these approximations including that they all combine groups of components into one, simplify most components dramatically, and are mostly only accurate for S0 minds. Meanwhile opponents point out that some helpful ascension maze guardian transapients have mentioned that in the majority of cases successful ascension requires passing from component to component at least once and that in many local regions of toposophic space the toposophic barrier consists of one or more of these component barriers in combination with factors difficult to explain at a modosophont level. It is worth noting that the majority of modosophont toposophists use these approximate models.